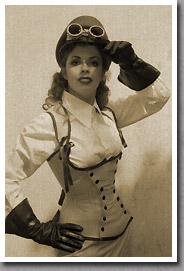 Lady Lavinia originally hails from the shapely family seat of Havitall Hall in the heart of Weloffsfordshire. But despite her aristocratic background, Lady L. prides herself on a self-made fortune. Well she'd have to really, as Daddy - Lord "Lucky" Leatherette ñ disinherited her after that little international incident in the Kingdom of Carpania. It was some sort of coup d'etat involving a lesser member of the royal family, a foreign dignitary of questionable reputation, and a game of strip poker. Beware! Lady L's cards are always marked...
From a young age the incorrigible Lady L. acquired a taste for all things competitive - especially if the odds were in her favour. She learned most tricks of the trade from her Father's leisure pursuits, which centred on his stable of thoroughbred horses and vintage racing cars. She quickly learned how to drive, ride, study a racing form, and calculate the odds on an accumulator bet. From her mother, Lady "Lovely" Kydd-Leatherette, she learned how to read a wine list, the value of dressing divinely for every occasion, and how to accessorise more skillfully than a Boy Scout.
Already somewhat pre-educated in the School of Life, Lady L. was sent off to Miss Fritton's Reformatory of Barchester ñ an infamous finishing school for young ladies of dubious background. Sadly, Lady L. was expelled at 16 after a rather successful run managing an illegal "entertainments" operation. "The Kindergarten Casino," as it was known, was run in partnership with a couple of other enterprising sixth form girls. Together they had great success fleecing the lower forms. They also ran "The Teacher's Lounge" (the chemistry class had its own in-house distillery) and The Blackboard Bistro (domestic science with cabaret from some performing arts students). Sadly it all fell apart one night when the gin was off and the Head Mistress didn't receive her usual percentage. Little did they know that Miss Fritton had practically pawned the school, and the lot went into receivership. Lady L. never did catch up with the senior business studies student set up as "cashier" in the casino and responsible for the divvy-up. She would remember her again if she saw her, though...
Not one to stand idle, Lady L. took her ill-gotten gains and went off on a bit of a grand tour for a few years in one of Daddy's cars, taking part in a rally or two and getting the taste for excitement from dangerous situations and hazardous pursuits. She operated in the casinos, racetracks and private high-stakes card games of all the major cities. She enjoyed the freedom and intrigue, picking up useful information wherever she went. Eventually she ended up in the casinos of Potzdorf in Carpania, where she made the acquaintance of a member of the royal house, Baron von Stuppe, and his mysterious associate Count Backwards. The Count is jack of many trades, but at this point in time he is in Carpania dealing in arms for a possible revolution. Lady L. obtained documents confirming this after a quick game of three-handed bridge. She was also curiously drawn to the Baron's aloof mistress, whom she believed she recognised from her days in Barchester.
Never wishing to outstay her welcome, Lady L. raced off once more, fueled by her quest for adventure.
Her hobbies are traveling and collecting fine art, antiquities, and material for blackmail.